Waardevol verkopen = High end sales = Verder kijken
Verkopen draait niet alleen om quick sales. Een waardevolle relatie verhoogt de omzet wanneer je voorbij de directe klant kijkt. Maak vanuit de relatie een bestaande klant tot ambassadeur voor jouw organisatie.
Expert zijn voor een speciale doelgroep en/of specialisme met kennis en vaardigheden die je hebt opgedaan door je ervaring, maar die je nog niet of te weinig gebruikt. Je doet nog teveel op de automatische piloot.
Expertstatus
Je bent al te lang opzoek naar inspiratie, betere verkoop, erkenning & succes en bovenal een waardevol leven. Claim je expertstatus, dat je specifieke organisaties hebt geholpen. Maak duidelijk wat potentiële klanten bij jou kunnen halen.
Pas op met het 'op maat maken van je diensten'. Het geeft het gevoel van flexibiliteit en goed aan kunnen sluiten bij de klant. Toch kun je stellen dat het niet alleen erg veel tijd kost (is ook mijn eigen ervaring en de klant ziet lang niet altijd de waarde van de extra tijd die je besteedt), maar ook de klant haalt niet altijd de beste resultaten.
Om met Rob te spreken:
Het gaat niet om je tijd, maar om je genialiteit.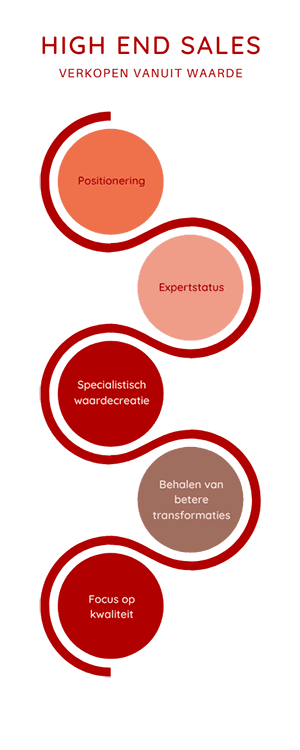 Plan met lef
Bepaal dus, dat jij voor de klant een goed resultaat kan bereiken met jouw aanpak en dienst, die je hebt verpakt in een product. Als je goed naar de klant hebt geluisterd, kom je dan ook met een voorstel waarin je de situatie goed beschrijft met jouw (standaard) dienst als oplossing.
Als jouw standaarddienst niet het resultaat geeft voor de klant, dan moet je geen offerte willen aanbieden. Als de klant niet gelooft (na jouw overtuigende offerte en verdere uitleg) dat jouw aangeboden dienst het resultaat kan leveren waar hij naar op zoek is, dan moet je de klus ook niet wíllen uitvoeren.
Conclusie
Je klanten verwachten gesprekspartners op hoog niveau. Dat betekent hard werken om te weten wat er speelt en wat de beste ideeën zijn. Maar ook weten vanuit welke context je klanten naar de wereld kijken. Organiseer op slimme wijze alle beschikbare kennisbronnen. Lees, kijk en luister als een integraal onderdeel van je werk. De eerste stap naar thoughtleadership is weten wat de rest al weet. De volgende stap is: kennis, ideeën en inzichten ontwikkelen die je klanten verrassen en uitdagen.
Jij hebt een heldere visie voor wat de klant nodig heeft om de resultaten te bereiken die hij wil. Daarvoor komt hij namelijk bij jou.
Enkele uitspraken die jij vast wel gehoord hebt in je carrière in sales.
"Verkopen en ondernemen vanuit kwaliteit en rust…"
"Werken met klanten onder mijn voorwaarden"
"Slimmer i.p.v. harder werken"
"Alle tijd en rust hebben om klanten op de allerbeste manier te helpen en passende waardering te krijgen…"
Heb je vragen of wil je aanvullende informatie over high end sales. Laat hier een kattenbelletje achter en wij bellen je zsm terug. Is snelheid geboden, bel dan met Rob op +316 1485 7222.
Als A gelijk is aan succes, dan is de formule:
A = X + Y + Z
X is het verkoopspel
Y ben jij
Z betekent zwijgen